Intercom System
There is a wide range of different types of intercom systems and their variations will serve the demands of different people and properties. Different brands can offer different options and the experience of "Gate Repair Simi Valley" can be helpful. It's good to consult with a specialist of our gate repair company in the area of installation and repairs of these intercom systems before making a decision. Having expertise in Intercom System types, designs and brands we can provide you with useful information and, of course, high quality services.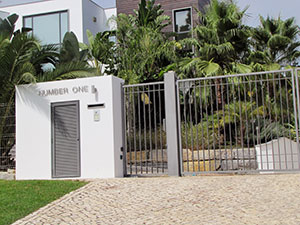 Excellent intercom brands and great service
Some of the most popular brands of intercom systems are Doorking, Linear and Aiphone intercom gate systems. These brands offer some of the top of the line features in intercoms. Some of these features include caller ID, call waiting, call forwarding and do not disturb features. These features can make these systems much more user-friendly and can help by saving money due to the fact that there is no need for hard wired lines or other systems for communication. When you are relying on the assistance of our expert specialists, you can be sure of the quality of intercom installation and the setting up of the entire system. Our staff is trained in repairing and servicing intercoms of all types and for all gates.
While most tasks on these intercom systems are similar having a technician who is a specialist in knowing how to program Doorking intercom systems can be a valuable asset. Each Intercom System has its own unique programming procedures and by knowing the proper way to program intercoms, it can be helpful in keeping the unit functioning properly. This process can be tricky and requires a technician who has been well trained and has experience working with these systems.
When you trust the experts of Gate Repair Simi Valley, you can be certain that they will provide excellent intercom repair as well. Having the equipment installed by our professionals is an excellent way to be sure of its good operation. Don't hesitate to contact us for services today!