Gate Opener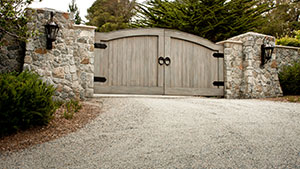 One of the biggest disadvantages to having a nice fenced in yard and driveway can be the hassle one has to go through to get in and out of the gate. While a fence and gate can be a benefit in many ways, such as keeping children and pets inside the yard, enhancing curb appeal, keeping stray animals and wildlife at bay, discouraging trespassers and deterring burglaries, it can also be a nuisance for the person who has to go in and out of the gate on a regular basis. In many cases, they may decide to turn to an electronic time-saving device such as a gate opener to help them in such circumstances. However at times, the gate opener may become disabled and then they will need to find a quality Simi Valley gate opener repair shop to help them get their gate back up and operating properly.
There are a wide range of different manufacturers of gate openers.
Each of these types of gate openers offers the same types of services, but they also have different features and elements that make them different from one another. By finding the right Simi Valley gate opener service shop to work on one's gate opener, one can find a shop with technicians who are knowledgeable in a wide assortment of openers and will be able to quickly diagnose and fix whatever type of problem that a person has with their particular model.
In many cases, a opener may need repairs such as gate motor replacement, repairs or replacement to the opener keypad or fixing the gate motor. These repairs may seem complicated but to a trained Simi Valley opener repair technician these repairs can generally be made quickly and professionally. This can eliminate the down time one experiences with their opener and result in getting the equipment back up and operating in a timely manner.
For those people in the Simi Valley area, using a opener can be a tremendous time saver when they are entering or exiting their home or business. With such a device, they do not need to go through the trouble of getting in and out of their vehicles to open and close the gates each and every time they leave. In addition, if they have pets or children, there is no need to worry that they will escape during the process when one is using an automatic opener. By finding a repair company that specializes in opener repairs, one can be sure to keep their opener in good condition by having needed maintenance done on a regular basis. In addition, when does go wrong, they can feel confident that they can call on a company that will be able to respond with a well trained technician in a timely and efficient manner.