Different Types of Gate Intercoms
11/10/2013
Back To Blog
If you happen to have a residential or commercial driveway gate, you can add another layer of security with the addition of a gate intercom system. Just as you have several choices with gates, you will have a number of options when it comes to intercom installations. Do the research to see which one will meet your needs. Here are the different types that you could install.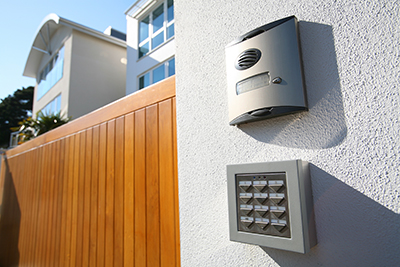 Residential
If your gates open into your home, you may choose the residential intercom system. With this type, you, or someone looking to gain access to your property, would pull up and then call into the residence. Someone from inside the home would respond by either refusing entry or entering a code that would allow access. In some cases, the person looking to get in can enter a code as well.
Programmable Intercom
This type of system is common and in use in residential and commercial properties. A keypad outside the entrance is what will allow access inside the property. A person looking for access would have to type in a code in order to get in. The program intercom system allows you to periodically change the codes that allow entrance to the property. This type also has memory, allowing a business or residence to access it if it chooses to keep track of who is coming and going at all times.
Auto Dialer System
For large buildings like apartment complexes, the most popular type of intercom system is the auto dialer. Whether the property has wrought iron gates or steel gates, gaining entry through them is done similarly to the residential system. A visitor trying to gain entry must call someone who lives inside. The person on the inside opens the door or doors by entering a code. Each of these types of intercoms adds another level of security to its property.